Expert Email Marketing Design Tips and Trends to Use in 2022
In a world of swarming social media marketing tactics, a tried-and-true marketing strategy stands tall above them all: email marketing. Email is 40x more effective at acquiring customers than Facebook and Twitter combined. This explains why so many companies today still rely on email marketing to reach their sales goals.
An estimated 31% of emails get opened by consumers. That's 31% of your audience you can speak to directly. In this modern age of hyper-personalization, any opportunity you can get to address your consumer in a personal way is incredibly valuable.
But here's the catch: not all emails are created equal. It isn't enough to simply click "compose," type a quick message, and send it off to your subscribers. Effective emails in 2022 are visually exciting, interactive, and irresistibly clickable. The expert designs and current trends are what keep email marketing effective and thriving. 
Let's take a look at some of the genius designs and biggest trends for email marketing in 2022 that you can use to transform your emails into a converting machine.
Following 2022 Email Design Trends
To stand out, stay fresh, capture and keep the attention of your subscribers, follow these email trends for 2022. We've distilled dozens of expert email designs and strategies down to three core values you can adopt to stay on trend and engage with your customers through your email marketing designs.
1. Incredibly Interactive
Consumers are craving an incredibly interactive experience. They want to be surprised and impressed. They want a change of pace from the plain old business emails they've been reading all day. How can you create an interactive design?
Animated GIFs bring movement, life, and dimension to an email. In a world of text-only emails or emails with a few featured pictures, a GIF brings interaction and engagement. With a GIF you can demonstrate how your product works, flash through color or style options, or create a fun short.
Polls and quizzes entice interaction and engagement. They too stand out from average email layouts and (added bonus!) personalize the subscriber's experience by showing them how you can reveal the perfect product for them, suggest a product line that fits their personality, or even ask them for suggestions.
Clickable product reveals may partially hide a product visually and invite a subscriber to engage with the photo in order to view the full piece. Clicking on your email gets your customer one step closer to making a purchase with you. Interactive elements like these entice those clicks in a casual and fun way.
2. Dynamically Designed
What makes an attractive email design in 2022? Their visuals are dynamic. Stay away from cookie-cutter designs – consumers want something unique and one of a kind. Drag-and-drop designs and stock images can make designing your email faster and easier. But if they aren't effective, it won't matter. Here are a few ways to keep your designs dynamic!
Mixed media designs combine different art styles together in one place. You might have a real life picture, digital text, an illustration, and a GIF together. Sound too unfocused? The art of mixed media is selecting pieces that, although they are different styles, all make sense together. When done right, these designs engage your subscribers' senses and keep them curious.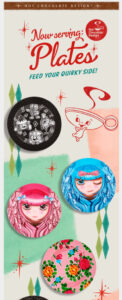 F layouts organize your design in the shape of an "F." This means: two horizontal elements on top of a vertical element. Studies have shown this is the way many people's eyes scan a page. This dynamic shape is satisfying to the eyes and unique to email designs of the past.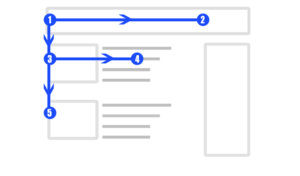 An active scrolling experience is the art of combining all of your design elements together in a way where each piece builds upon the next. You can add movement through gifs that connect one section to the following section. Or clickable elements that require a subscriber to scroll as they interact.

3. Perfectly Personalized
Every corner of the digital marketing world today is calling for more personalization. Customers want you to find and serve them with exactly what they want at the right time. They don't want to be a drop of water in the ocean of mass marketing audiences. They want you to show them what will make them happy and solve their problems. How can you do this in an email – especially with a list of hundreds or thousands of unique subscribers?
Use your customer's name whenever possible. You can easily code your email to use the corresponding name on file with a subscriber's email. Put their name in the subject to get their attention, at the beginning to talk directly to them, or in the body somewhere to keep them engaged.
Segment your emails into groups of people who are interested in different parts of your business. You can set this up when they first sign up for emails on your site. Did they provide their email after taking your product quiz? Segment them into a unique marketing bucket for the product they tested for. Did they provide their email while making a purchase? Follow up with their purchase and market similar products or upsells.
Create a customer journey. Similar to the above, this helps you reach individuals with relevant marketing emails instead of sending the same email to every single subscriber on your list. A customer journey is essentially a list of email rules. For example, when a subscriber clicks on one product line, they get a corresponding email. When they add an item to their cart but never checkout, they receive another email. And so on. This truly personalizes the customer journey and keeps the conversation going, even after they've left your website.
Some Extra Rich Expert Tips 
Here are our final key tips for a successful marketing email in 2022! 
Add an Unsubscribe Link: This may sound like a strange tip. Isn't unsubscribing bad for you? Actually, not really. It's better for you in the long run to get rid of the people who aren't interested in your business so you can spend time reaching the people who will eventually buy. It also helps your performance statistics when those who aren't engaged take themselves out of the pool you're working with.
A/B Test Your Emails: When possible, create several versions of an email and set up an A/B test. This helps you identify what your subscribers actually enjoy seeing and makes your efforts more effective.
Preview Your Email Everywhere: It's important to view your email on a desktop and a mobile device. But it's also important to know how they appear in Gmail compared to Outlook, Yahoo, iCloud, or another email service. Many email marketing design apps have this previewing feature available.
You Have 10 Seconds Starting Now
We just covered a lot of information. As you begin to brainstorm your email marketing design, we want to address one final thing.
Here's the bottom line: your email needs to hook your audience in 10 seconds or less. That isn't a lot of time, so it's important to be incredibly intentional and focused. As soon as that email is opened, the countdown begins. You have to:
10…Wow Them From the Start
Make a killer first impression. You may have a jaw-dropping new product line to display, a once-in-a-lifetime sale, or a clever fresh feature to share. Whatever the subject of your email is, make it clear and shiny from the moment they open it.

9…Personalize Everything
We mentioned earlier the value of hyper personalization. Customers today want to know you see them for who they are. They want you to know their problems and desires, to see them as more than just a number on your list of subscribers.

8…Keep it Interesting
Pssst. You have 10 seconds, remember? Don't send a boring email. Your customer will click out immediately. Remember to make your design dynamic and interactive to intrigue your customers and keep their attention.

7…Stay Focused
Don't try to tackle too many things at once. Each email you send should have one focus. An unfocused email will confuse your customers and they will not stick around for longer than ten seconds.

6…Make it Meaningful
Make your email significant and meaningful for your subscribers. Tell a heartfelt story. Share your company's vision. Get your customer to connect with the heartbeat of your business, and you'll gain a loyal customer and brand advocate.
5…Know & Show Your Brand
Speaking of brands, do you know how to express yours? More than colors, shapes, pictures, and logos, do you know who you are? Your subscribers should instantly connect with your brand within the first ten seconds of opening your email.
4…Clarify Your Offerings
Be clear about what you have to offer! Don't be shy about promoting your products and services. Display what you're selling in each email.
3…Focus on Your Audience
The question every subscriber is subconsciously asking is: how does this apply to me? If your email is only focused on how awesome you are and never addresses them as the customer, they will click out. Make it fun and think of your emails as a valuable opportunity to have a conversation with your audience!
2…Ensure Your Design is Mobile-friendly
Over 50% of emails opened today are opened on a mobile device. Make sure yours looks just as awesome on a phone as it does on a desktop!
1…Strong Singular CTA
Every successful campaign has a strong call-to-action, or CTA. What do you want them to do after opening your email? You could direct them to a blog, a sale, or shopping experience. Avoid the temptation to give them options. Guide your audience directly to want what you want them to do.
Full-Service Email Marketing
The world of email marketing is exciting. But it can also be overwhelming. How do you know if your design is good, how to segment your email list, or apply these tips to your email marketing strategy? As an email marketing agency, we specialize in helping businesses answer tough questions like this and master their email marketing. Reach out to us today for full-service email marketing help.