The Browse Abandonment Tips You Need This Holiday Season
The holiday season has begun and you may have already started noticing increased website traffic as shoppers start their annual search for gifts.
According to Salesforce data, in 2021's Cyber Week (including Black Friday and Cyber Monday), online sales hit an all-time high of $275 billion. And in 2020, online sales on Cyber Monday reached $10.8 billion, making it the biggest e-commerce selling day of all time.  
Q4 is an incredible time to capitalize on all of this increased site traffic. So how do you effectively convert more of those new 'window shoppers' into customers? One very effective way is with a Browse Abandonment strategy.
What are Browse Abandonment Emails and SMS Messages?
Picture this: it's the third week of November and someone looking for products like yours stumbles upon your website. For some reason, though, they leave without making a purchase. 
Unsavvy marketing teams may notice that their website traffic increased, but pay no attention to the prospects that got away. That's where browse abandonment strategies come in.
Browse abandonment emails and texts are a form of remarketing that re-engages visitors after they leave a page. These strategies are automated, meaning they are connected to a workflow and triggered to send when a site visitor takes a specific action. 
The goal of the flow here is to lead visitors back to your e-commerce website after they go, increasing your conversion rate and, hopefully, your revenue.
Why Do We Need Browse Abandonment Flows?
Browse abandonment strategies are important pieces of an email marketing toolkit for three main reasons:
They re-engage prospects. No one wants potential customers not making a purchase because they simply forgot or closed the tab, when a simple email could've drawn them back to your site.

They're highly personalizable.

Because you know what page a visitor was shopping on, you can set up your workflow to engage them based on what they were searching for.

They're easy.

Workflows make things simple and scalable. By setting up a browse abandonment email flow, you can cover your bases so that all leaving visitors (aka window shoppers, aka could-be customers) won't slip through the cracks.
Which Browse Abandonment Email Metric Benchmarks Matter?
Before you begin building re-engaging emails, you'll need to understand the most important metrics for email marketing.
Open rate:

the percentage of recipients who open a given email. 

Click (or clickthrough) rate:

the percentage of recipients who clicked on one or more links within a given email. 

Conversion rate:

the percentage of recipients who clicked on a link within a given email and took the desired action (e.g., buying a product or filling out a lead generation form).

Revenue per recipient:

the amount of revenue generated from an email (calculated by dividing the amount of revenue your email generated by the number of emails delivered).
By tracking these metrics, you'll gain an understanding of which emails are performing well and which aren't. Then, you can adjust your strategy to better engage your prospects. Aim to reach the below benchmarks in your industry.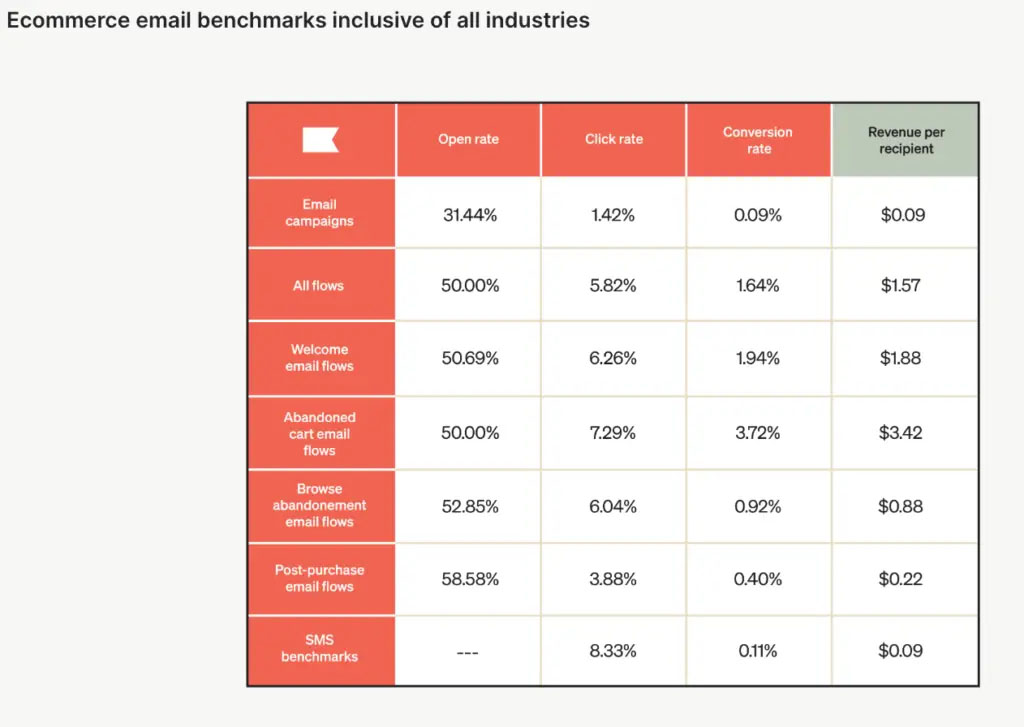 Source: Klaviyo's email marketing benchmarks by industry report
How to Build Browse Abandonment Flows
Because simply viewing a website shows less purchasing intent than adding items to a shopping cart, browse abandonment workflows should be a "light touch."
Different email service providers will have slightly different processes, but whichever provider you use, you'll want to navigate to "Flows" or "Workflows" and start a new one from scratch.
Since workflows trigger on everyone who meets their criteria, you'll have to be careful about the requirements that you create. We recommend something like the following flow filters: 
Placed Order zero times since starting this flow
AND
Started Checkout zero times since starting this flow
AND
Hasn't been in this flow in the last 14 days
AND
Added to Cart zero times since starting this flow (this only applies if you have an "abandoned cart" email flow as well – you don't want to trigger two marketing emails at once!)
You'll want to add in a time delay of at least a few hours, but maybe longer depending on how long you want it to be between a window shopper visiting and being reminded to revisit your site. We recommend testing your timing to find the highest converting time delay (e.g., 4 hours vs. 6).
Then, build your emails and drop them in the flow. We recommend including at least 2 emails and 1 SMS message to start. You can then iterate on this phase 1 recommendation as you start to see performance data. When you're ready, turn on the flow and start catching window shoppers!
5 Browse Abandonment Tips
Use segmentation to your advantage.

For example, repeat customers should probably get different messaging than non-customers. By segmenting your flow, you can tailor content to each group, more effectively meeting their needs.

Conduct A/B testing.

By testing a similar message with just a few elements tweaked, such as the subject line and timing of the messages, you can find the optimal cadence and wait periods after abandon to send. Based on this initial performance, you can then consider adding additional touchpoints.

Offer discounts to increase conversion.

The benefits of offering a sign-up discount, typically from a pop-up that captures emails, don't stop at first-time purchases. They can also be included in your browse abandon emails to non-customers, reminding them they still have the discount to use, which will help increase conversion rates.

Understand what your audience needs.

Non-customers may need a different type of nurture content included with abandon emails to drive that first purchase. Things like social proof (e.g., good reviews), product education, and unique brand benefits are huge here. Customers, on the other hand, have already purchased from you and thus know your brand and quality. They may be coming back to add to their collection, replenish their supply, or even gift to someone, so they may not need the same type of content, but tailoring content to those potential use cases can help encourage repeat purchases.

Test, scale, exclude, repeat. As you continue to build out your browse abandonment flow, you'll have to continue testing and tweaking. One thing to stay mindful of, for example, is that you'll want to exclude your most loyal "VIP" customers, users with repeated interest in the same product, and one-time purchasers who haven't come back in a while.
Browse Abandon Inspiration



Evolvd Marketing Can Give You The SMS and Email Help You're Missing
Want to drive increased conversion rates not only during the high-traffic holiday period, but throughout the rest of the year? Still have questions about how to build out these flows? 
Evolvd can help you set up a winning email and SMS marketing strategy that will reach all the window shoppers you're missing. Reach out today to get started.